Posted by Becky Graham on 16th August 2018
Extend your living space to an outside terrace and create a stunning feature in your home!
If you have an outdoor area that you would like to use but didn't think it would be possible because of a sloped roof, the VELUX Roof Terrace is the ideal solution for you. Giving you the best of both worlds, the VELUX Gel Roof Terrace lets you access the roof areas when open, and floods in plenty of daylight when it is closed.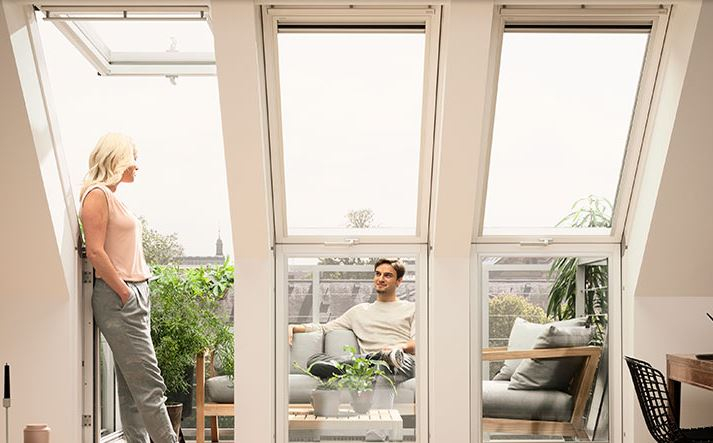 The VELUX Roof Terrace is made of high quality natural pine with a clear lacquer finish, making an exquisite addition to your home. With the clever design of the roof terrace it gives you floor to ceiling views creating maximum daylight. The Top-Hung upper element and side hung lower element combine to produce a doorway to the outside terrace. All other upper elements in the combination are Top-Hung whilst the vertical lower elements are fixed.
You can also choose between a left or right handed opening for the lower section to fit in perfectly to your room.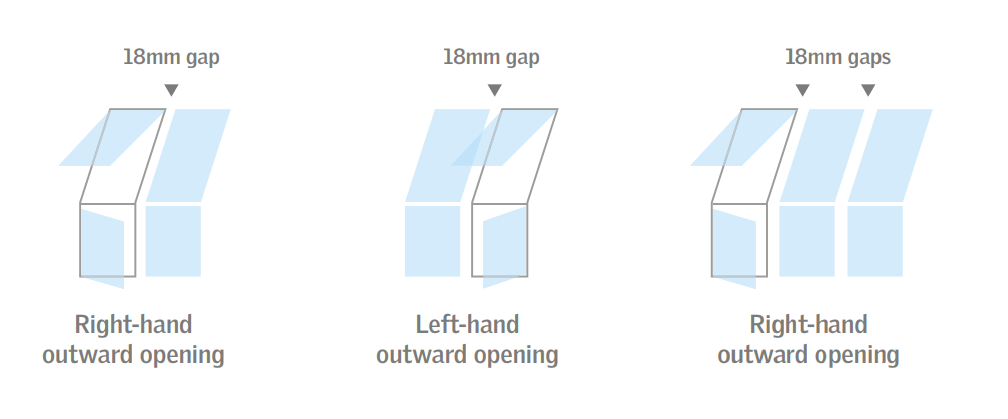 With the VELUX Roof Terrace you can let natural air flow into your home with ease. By pulling down the top control bar once, fresh air can enter your home even if you are not in! With the ventilation flap, it can always remain open and won't be affected by adverse weather conditions or leave any worries for security when you are not home.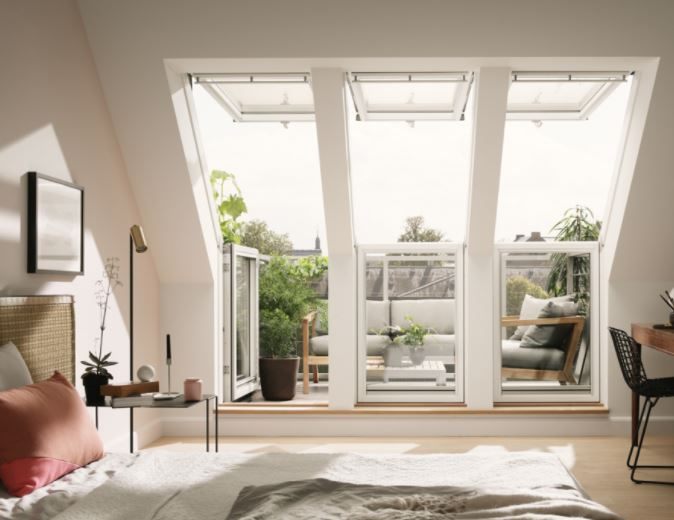 The VELUX Roof Terrace will really transform your home and giving you the choice to access the roof when open, but also let in loads of natural daylight when closed. The Roof Terrace comes as standard with highly energy efficient triple glazing and a clear and clean coating on the toughened outer panes which keeps the glazing cleaner for longer.
PLEASE NOTE: The VELUX Roof Terrace does require extra work to make the balcony area (i.e. external railings and weathering's) and create the stunning feature that it is. When purchasing the VELUX Roof Terrace, the Handrail & Flooring are NOT included so please ensure you purchase these.
If you have any questions or require any further information, please feel free to contact us.