Posted by Jodie King on 17th May 2017
VELUX are always improving their products to ensure they maintain the high quality which VELUX are known for. These continuous improvements over the years obviously results in some of the older style VELUX brand windows becoming out of date in terms of the off-shelf support.
However, this is not a problem. The new off-shelf VELUX flashings can be made to fit these older windows in many circumstances.
Old VELUX Window Sizes, Serial Numbers and Number Codes
Below is a list of the window sizes and the variety of codes which they may have on them, depending on when the window was purchased.
Remember window sizes are for the external window frame not internal measurements.
Window size 55 (W) x 78 (H) code 102 or CO2 or CKO2
Window size 55 (W) x 98 (H) code 104 or 6 or CO4 or CKO4
Window size 78 (W) x 98 (H) code 304 or 1 or MO4 or MKO4
Window size 66 (W) x 118 (H) code 206 or 5 or FO6 or FKO6
Window size 78 (W) x 118 (H) code 306 or 14 or MO6 or MKO6
Window size 78 (W) x 140 (H) code 308 or 2 or MO8 or MKO8
Window size 138 (W) x 98 (H) code 804 or 7 or UO4 or UKO4
Window size 114 (W) x 118 (H) code 606 or 4 or SO6 or SKO6
Window size 98 (W) x 160 (H) code 410 or 3 or P10 or PK10
Window size 134 (W) x 140 (H) code 808 or 8 or UO8 or UKO8
Where are the VELUX Brand Windows Codes Located?
The VELUX brand window codes are found on the top right hand edge of the roof window when you open it. The data plate tells you the type of window and the window size shown through the code. As shown below in the example, 304 would be 78cm x 98cm and the bottom window code 4 would be 114cm x 118cm.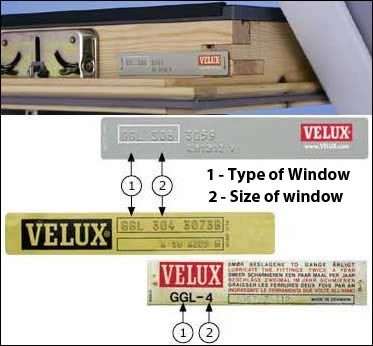 For further information on Roof Window Repairs, fitting a new flashing set to an old roof and VELUX windows or how to replace old VELUX flashings, please visit here.
If you have any further questions on VELUX brand Window codes, you can contact VELUX directly on 01592 778 225.