Posted by Jodie King on 29th January 2019
So, you've made the choice to add additional windows to your home to help shed some light into the rooms you frequent throughout the day. It's likely while researching, you've come across several windows with different mechanisms and gadgets, and don't know where to begin deciding what you'd like. Enter the electric roof window solutions…
Integra is the name given to any of VELUX'S electric or solar windows, and they all come in a variety of finishes from white painted pine, pine or white polyurethane to suit any taste. They're suitable from roof pitches from 15-90 degrees and come with a standard 70 glazing which is customizable based on your preference (see below for the added extras!)
If you're considering having windows installed in your roof or are thinking about upgrading your existing roof windows to make life a little easier for yourself, electric windows could be the way forward. Yard Direct has a variety of innovative products by VELUX that will suit your home perfectly!
Why Buy an Electric Window vs a Manual One?
Wading through the plethora of roof window options available on the market can feel like a tough task, whether you're a home DIYer or an experienced professional. To make the decision easier, you could start by choosing either a manual or an electric one.
A manual roof window does just what it says on the tin – you'll have to open and close it by hand. The pleasure of an electric window really comes into play when you're looking for window solutions for hard to reach areas. The VELUX Integra windows come along with a handy wall switch, meaning opening and closing it will be super simple.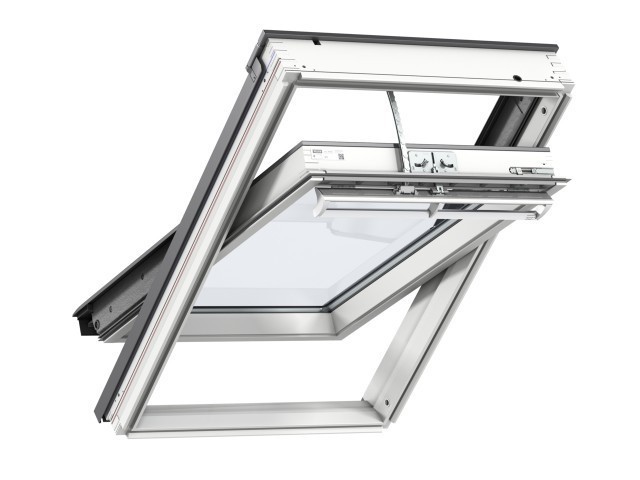 VELUX Integra Comes With Plenty of Great Features
VELUX Integra are more than just windows, and they come with a variety of customisations to make sure that the windows really are suitable for the home. All Integra windows come with the following as a standard;
Rain Sensors
Running around the home to close windows as soon as there is evidence of rain outside will be a thing of the past! VELUX Intregra windows are all fitted with a rain sensor to close the window as soon as it begins to rain, which will do the hard work for you so you can rest easy in knowing that your home will be kept dry even if you're out of the house!
Pre-paired remote
The VELUX Integra windows come as standard with a pre-paired remote, meaning there is no hassle in pairing your remote to your window! The remote comes with up/down/stop buttons on it to for simple operation of your roof window. If you wish to program your window and operate it through your phone, see more below about the great VELUX ACTIVE package which pairs seamlessly with the VELUX INTEGRA products.
Optional Add-Ons
As if the above features aren't enough, there are a couple of additional extras you could add to your electric windows to make them truly adaptable to your home:
Noise Reduction
If you live in a noisy area and are looking to keep any exterior sound out of your home, you have the option to upgrade your windows to include 60 pane glazing which will keep out sounds such as car alarms (and even rain!)
Energy Efficiency
For the eco-friendly home, or one just looking to cut the expense of heating the home, you could have triple glazing added to the window. This involves adding a tough outer pane to the existing glazing, which helps to keep heat within the home and is specially designed to prevent condensation.
VELUX ACTIVE
We're spending more and more time indoors, why not make it more enjoyable with VELUX ACTIVE? The VELUX ACTIVE works in conjunction with your VELUX INTEGRA products and lets you control your windows easily using your smartphone. You know those swelteringly hot summer days, where you get home and throw every window in the house open as quickly as you can to let some air in? Let the Integra do it for you! You can program a setting which will mean that you can set your windows to open or close at a recurring time every single day, so your home will be at optimum comfort levels when you get home after a long day. You could pair this with the VELUX electric blinds too, to give the impression that people are at home at certain points throughout the day (PRO TIP: great for when you're away on holiday!)
Convinced? Give our specialist team a call for a quote, or to ask if you have any further questions about our range of VELUX electric windows. You can reach us on 01786 357 252.