Posted by Lawrie Fraser on 4th August 2023
A Sun Tunnel can transform your home from a dark and gloomy, enclosed space to a light sanctuary promoting a healthier home and a healthier mind. So, let's get into it. Here is our full 360 guide on everything you need to know about Sun Tunnels.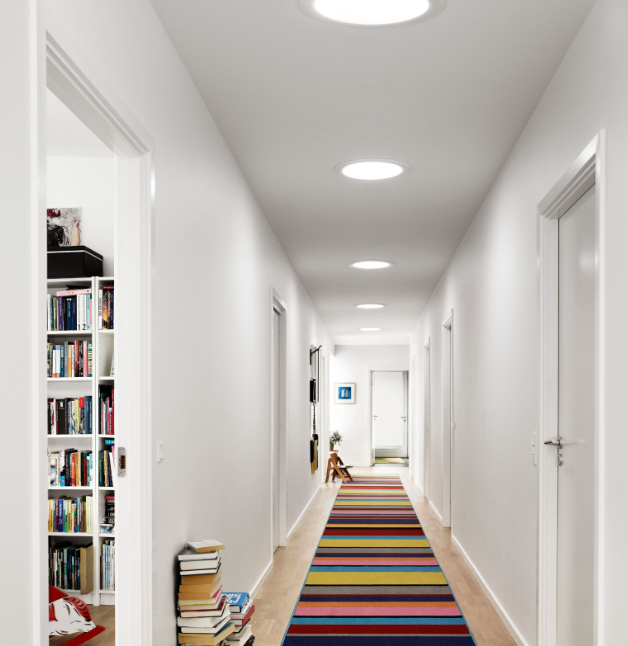 When it comes to adding extra daylight and improvements to your home, we understand it can be incredibly stressful and that's why we are here. Sun Tunnels otherwise known as light tubes are an ideal, bank account friendly method to open up, bedrooms, hallways and even bathrooms which do not have a pitched or flat roof window directly accessible.
---
What is a Sun Tunnel?
Sun Tunnels are highly reflective tubes that transport light via an opening in your attic roof to the room below. Sun Tunnels – Sometimes known as Sun Tubes, Light Pipes or Light tubes – have the ability to not only add light to your home with natural daylight, but also add a modernised light and open appearance to your home.
By using sun tunnels in your home, you add open up rooms deeper into your home. Turning once uninhabitable rooms into daylight beacons.
---
What sun tunnel should i use on my roof?
For all pitched roof/sloping roof sun tunnels, you can purchase them in their flexible or rigid. Each variation has its own benefits and depending on your home. You may have to go with the flexible.
Flexible sun tunnels come with a flexible reflective tube to pivot around obstructions or unmoveable items in your attic. The flexible sun tunnel usually comes in cheaper than the rigid sun tunnel. However, due to its difference in material and pivotable tube, they usually produce less light within your home as the rigid sun tunnel maximises daylight with more light bouncing off the surface of the ridged tube.
Rigid sun tunnels come with a solid tube which goes straight down from the attic roof to the attic floor (room ceiling). The rigid cannot pivot around unobstructive items or move to the conditions of your home. Rigid sun tunnels can be bought with extension pieces to increase the reach of your new natural daylight.
However, the benefits of the rigid sun tunnels are extraordinary. They can provide up to 20m of light distribution, depending on the project. As well has offering more general daylight than the flexible sun tunnel.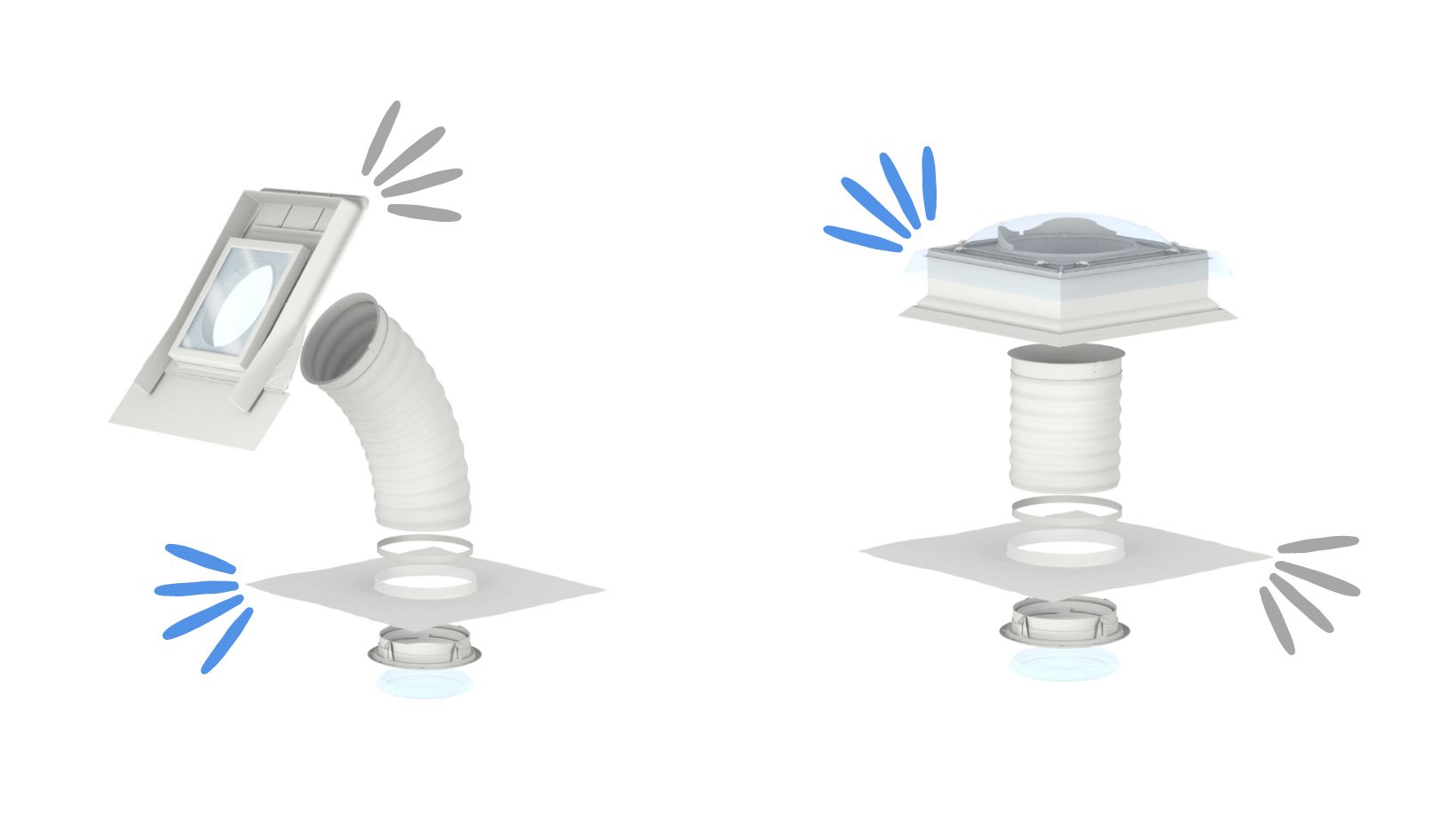 Flat roof sun tunnels
Available in rigid or flexible to ensure product diversity to fit every project.
Flexible Flat Roof Sun Tunnel These sun tunnels have been designed for spaces which are 0.2m – 0.9m between the roof and the ceiling. The easy-to-assemble, super reflective flexible tunnel has a diameter of 35cm. It also comes with an easy-to-assemble diffuser which comes complete with a polycarbonate insulating frame. The flexible flat roof sun tunnel comes with a PVC kerb and a polycarbonate dome giving an attractive finish.
Rigid Flat Roof Sun Tunnel The VELUX rigid flat roof sun tunnels have been designed for spaces which are 0.8 – 6m between the roof and the ceiling. The rigid sun tunnel is a 1.7m long rigid tunnel and is supplied with 2 x 45° bends to create a sturdy daylight system which will ensure adequate daylight levels. Coming in a super reflective coating, the sun tunnel provides a 98% internal reflection rate and comes with a PVC Kerb and acrylic dome.
---
What roofs are sun tunnels suitable for?
Sun tunnels are suitable for both flat roof windows and pitched roof windows. Flat roof sun tunnels are suitable for roof pitches between 0-15 degrees. You still need to flash in and around the kerb with onsite flashing to ensure a weathertight seal between the roof and sun tunnel.
Pitched roof sun tunnels are suitable for roof pitched between for Roof Pitches between 15º and 60º. They are suitable tiles up to 120mm thick or slate up to 8mm thick.
We recommend having your sun tunnel south facing for ultimate daylight. South facing sun tunnels see the longest sun light meaning brighter and longer periods of natural daylight in your home.
However, sun tunnels on a pitched roof or flat roof will still see more light than a standard lightbulb for a healthier, happier and greater energy efficient home.
---
What are the benefits of sun tunnels?
Direct natural daylight has a variation of different benefits. Including better physically and mental wellness as well as a boost in bodily functions. You can read all our benefits of daylight here.
Not only will your body, mind, and home reek the benefits of a sun tunnel, your bank account will too. With natural light use of artificial light will be minimised. With an energy bill improvement instantly.
---
What size sun tunnel do i need?
How many sun tunnels is decision to be made by you. There is no correct or incorrect answer. How we advise, checking with your installer how many your room can support. Analyse your budget and see what it allows, always be sure to check our best price promise.
The more sun tunnels, either flat or pitched. You will see greater results.
If your roof can only support one for a small, confined space. If the project allows. We would recommend purchasing the biggest size for better results.
To understand which sun tunnel is best for your room here is our quick easy guide.
| | | |
| --- | --- | --- |
| Sun Tunnel size | Room size | Suitable rooms |
| 10 Inches | 4-10m² | Small rooms and hallways |
| 14 Inches | 11-15m² | Large rooms |
---
What is the warranty on a VELUX sun tunnel?
All VELUX sun tunnels, and roof windows come with a 10-year warranty.
---
What should i consider when buying a Sun Tunnel?
The size of the room that you want to light.
The type of roof that you have.
The amount of natural light that you want to let in.
Your budget.
---
Are sun tunnels worth it?
Whether or not sun tunnels are worth it for your home will depend on your individual needs and budget. However, for many people, the benefits of sun tunnels outweigh the drawbacks. If you are looking for a way to add natural light to a dark or windowless room in your home, then a sun tunnel is a great option.
---
Where to buy sun tunnels?
You can choose the best quality sun tunnels & prices by product here:
We hope our guide on sun tunnels helped. However, if you want even more expert advise you can email us on sales@yarddirect.com.
If you are looking for technical documents on sun tunnels click here.