Posted by Becky Graham on 11th April 2018
Buy all you need for the perfect project in one easy purchase. Meet your needs with bundles for your ideal Bedroom, Kitchen and Living & Dining areas while also saving up to 7% compared to buying them separately!
With every bundle you get the most suitable window for that particular room as well as a flashing kit, insulation collar, underfelt collar & blind.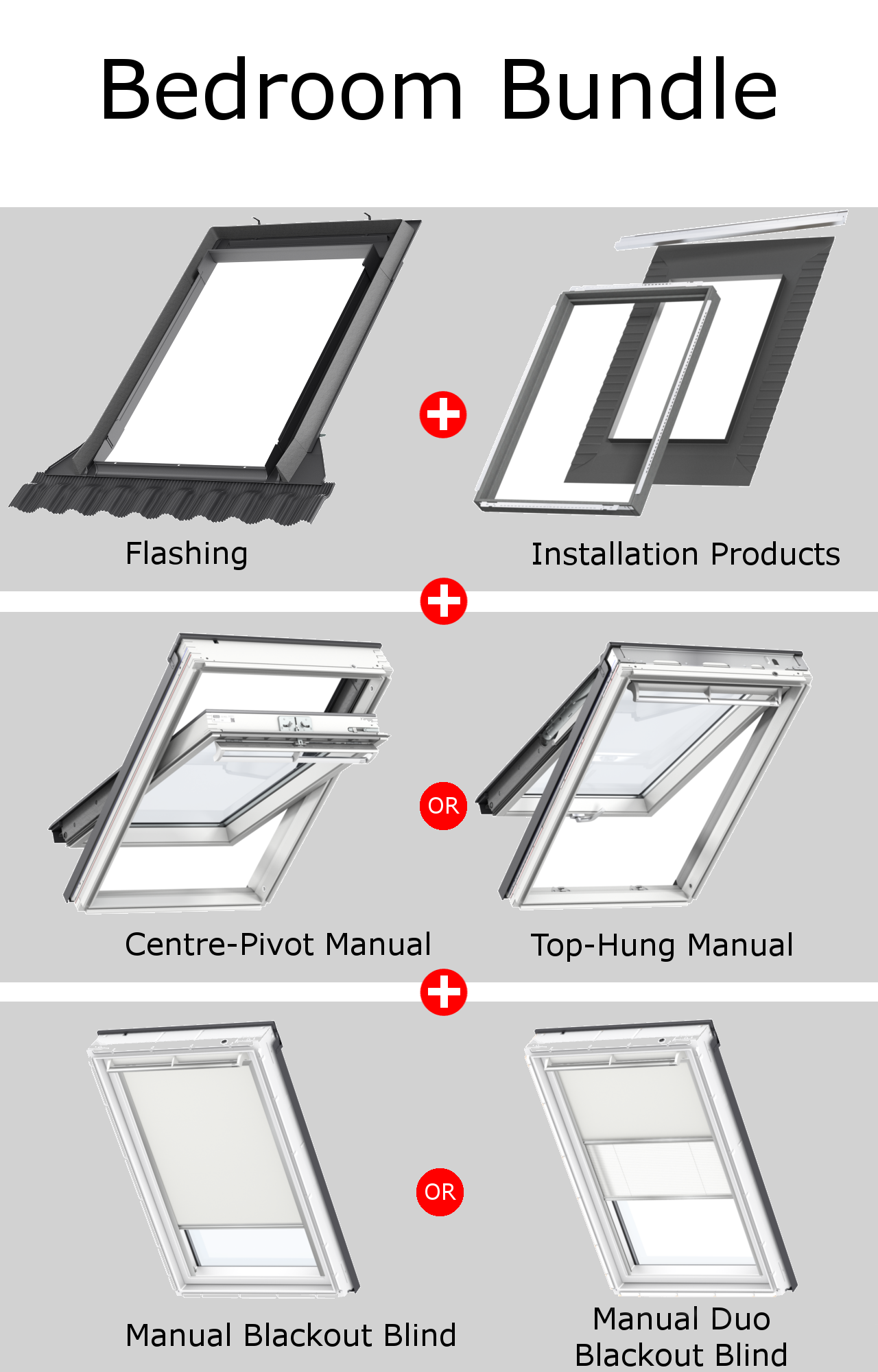 VELUX BEDROOM BUNDLE
With the VELUX bedroom bundle you have the choice of a top-hung window or a manual centre-pivot window. The top-hung window is ideal for when the window is within reach and allows you to look out of it with unobstructed views. The centre-pivot is the best option if your window is above head height. Both windows come with noise reduction glazing allowing an uninterrupted sleep.
On top of this, with light being a big consideration in bedrooms – wanting it to be bright and airy during the day but darker at night for a good night's sleep, this bundle combines a blackout blind with your choice of roof window.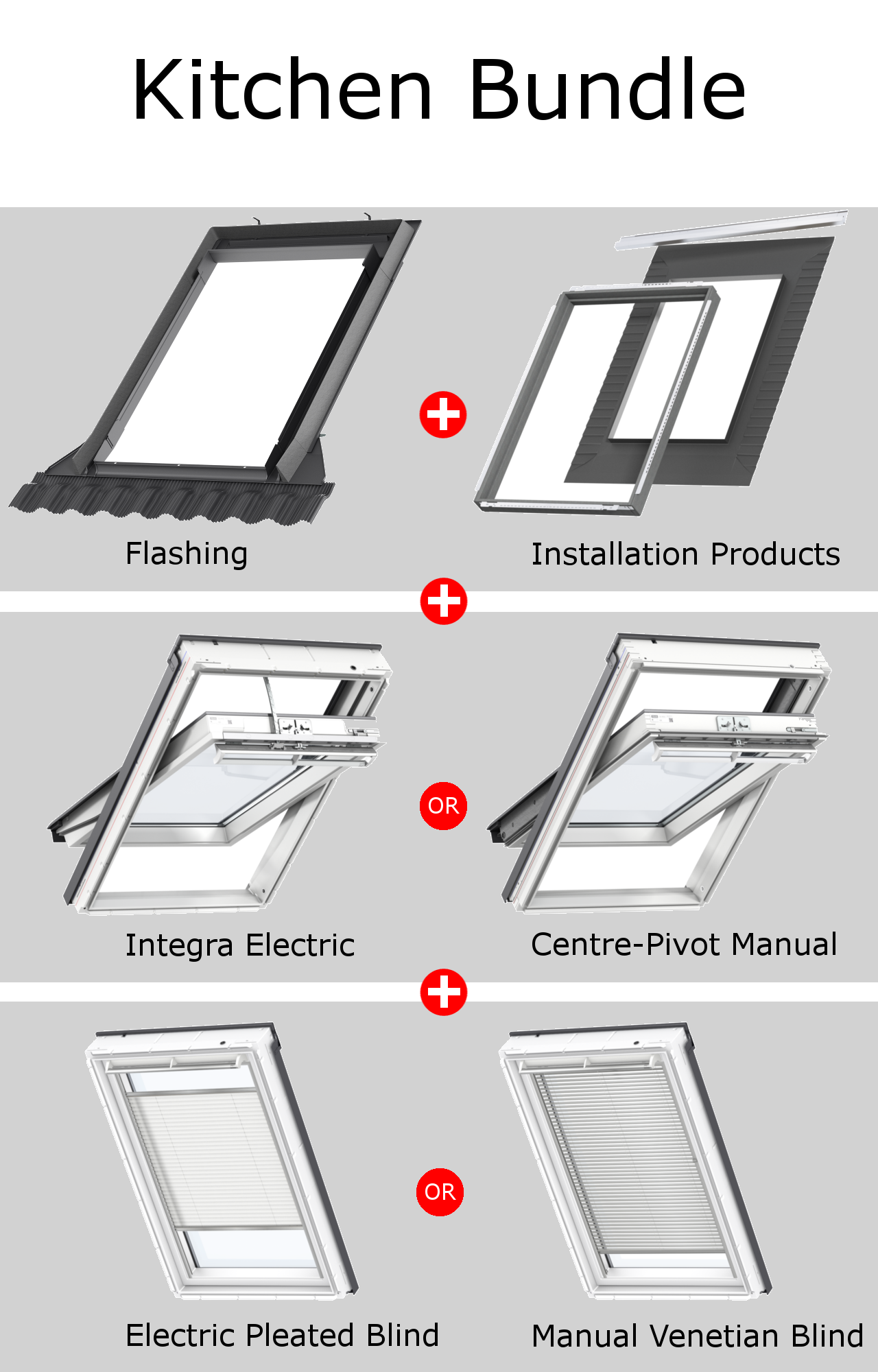 VELUX KITCHEN BUNDLE
Kitchens see their fair share of steam, moisture ad humidity, which is why in the VELUX kitchen bundle the roof windows are made with a moisture-resistant white polyurethane finish. In this bundle you have a choice of the manual centre-pivot or the electric centre-pivot. The manual centre-pivot is easy to open and quick to control. The VELUX Electric INTEGRA® windows include a touchpad for easy operation, allowing you to program it to open and shut whenever you want. If this wasn't enough it has a rain sensor meaning there is no need to worry if you forget to close it.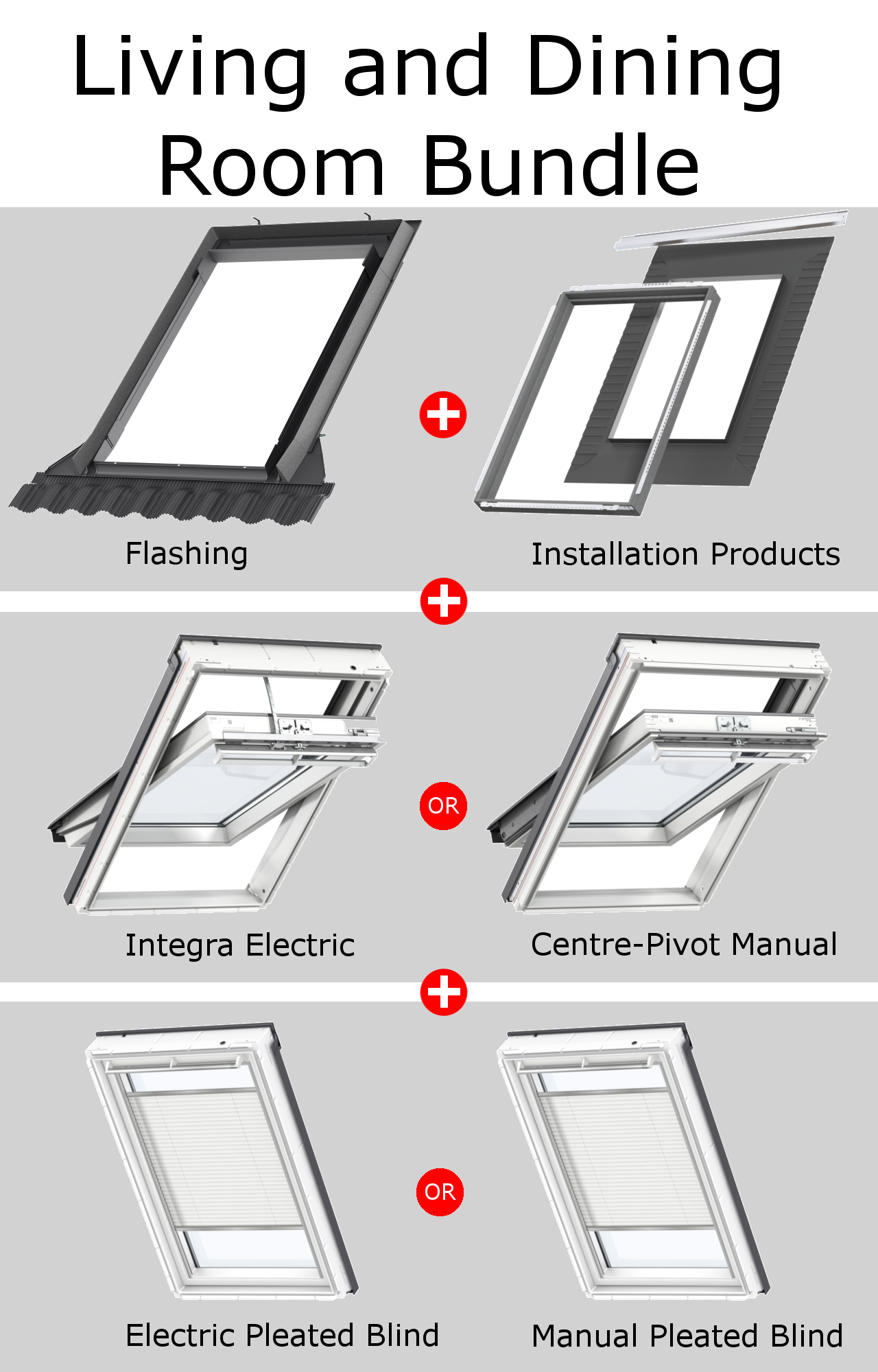 VELUX LIVING & DINING ROOM BUNDLE
The living & dining room bundles also come in the choice of centre-pivot manual or electric operation just like the kitchen bundle. The only difference being that the living & dining room bundle comes in white painted pine compared to white polyurethane as you wouldn't get the same moisture levels as you would in a kitchen.
Installing several roof windows in your living space allows you to make the most of the daylight during the day, while closing the blinds ensures a cosy space for evenings in.
All three bundle options include flashing kits for slates up to 8mm thick or tiles up to 120mm in profile. You need a minimum roof pitch of 15 degrees for these flashings. You will also receive insulation & underfelt collars with your flashings, helping to reduce heat loss and ensuring a weather-tight seal between the roof and window.
So why wait? Take the hassle out of buying your VELUX windows and save time by getting everything you need in one easy purchase.