Posted by Jodie King on 17th January 2019
Considering adding some windows or a skylight to your roof? Perhaps you're hoping to make the home more energy efficient, or to allow more ventilation or natural lighting into a loft conversion? Whatever your reasoning, the number of options, all with different mechanics to open and with their varying uses, can be quite overwhelming when choosing what you'd like to go for.
Many manufacturers don't use any of the industry jargon with any kind of consistency, which can make an already tiresome process of making a choice even more cumbersome. We've broken down the different types of roofs windows that we have available below, to make the minefield of decision making a little easier to navigate.
Centre Pivot Windows
A centre pivot window has a hinge in the middle of the pane, instead of the top or on one side. Their design makes them super simple to open and close, as the top bar control makes the window easy to reach even if there is furniture in front of it. It also means that you're able to install the window a little lower than some other types, meaning that you can get an incredible view!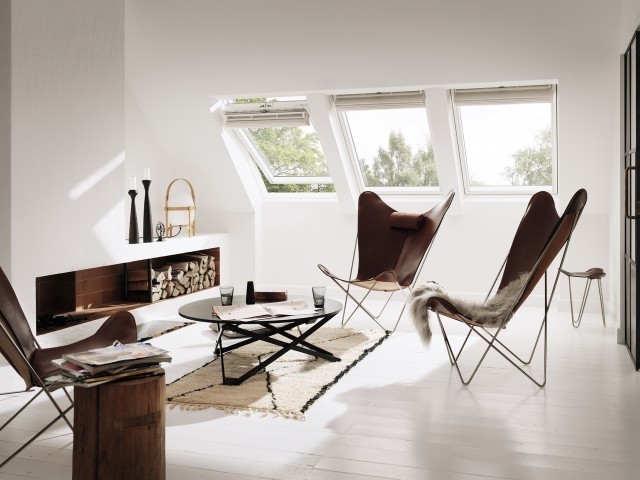 Top Hung Windows
Similarly, to a centre pivot window, VELUX'S top hung windows allow for great views in any loft conversion! These are well suited to rooms where the roof window will be easily within reach. When opened, the entire sash is outside of the room (unlike a centre pivot, which can take up space within the home) which makes them a great solution for a slightly smaller room.
Conservation Roof Windows
Conservation windows are perfect for houses where local authorities demand that any renovations to homes in the area to be in keeping with one another. They are instantly recognisable by the black bar that runs through the centre of the panes, and the way that they sit recessed into the roof. This helps to mimic a more traditional style of windows with cast iron details.
Sun Tunnel
If there's a corner of a room that you've really struggled to get natural light to, then a sun tunnel or a daylight system may be the way forward. They work by channelling natural light directly from the roof, and down a highly reflective tube to disperse it into the room. They're available as either rigid or flexible types, with the "flexible" option working around obstacles such as pipes in your roof to be able to deliver light to the destination, whereas rigid allows for lighter where there are no obstructions in its path.
Sun tunnels work perfectly for corridors or in other places where space for other window types might be difficult, and regardless of whether you choose a flexible or rigid solution, a rounded dome or flat glass cover, it's best to go for the largest size you can for the space or going for multiple to maximise the lighting in the room.
Balcony Windows
Looking to take the glass in your roof a step further? Allowing light into the darker parts of your home doesn't have to be just a plain window! For example, VELUX offers some of the most innovative window roofing solutions around! You can bring the outdoors inside with the addition of a Cabrio Balcony, to give your home a natural look with sunlight and fresh air flooding in.
Sloping and Vertical Combination Roof Windows
Sloping and vertical combinations allow a phenomenal amount of light to enter your space and can truly open a small room. They make for an excellent view as the sun moves through the sky throughout the day and a stunning display of the stars in the night, offering panoramic views.
Smoke Ventilation
If you're looking for a smoke ventilation system, perhaps you have a kitchen built into an extension on your home or something similar. It's a sad reality that a large portion of fire-related death is caused by smoke inhalation and not by the fire itself, which is why this type of roof window is a must for any household. A smoke ventilation system roof window opens quickly in just 60 seconds in the event of an emergency at just the click of a button, which will give you peace of mind that you're better protected when you really need it.
What Brand Should I Go For?
VELUX roof windows are among some of the best quality and the most innovative on the market, and they come with a huge range of accessories to be sure that you're getting the perfect window solutions for your home that will stand the test of time. Whether it's a flat roof or a pitched one, or simply a matter of personal taste, VELUX is bound to have something in their range to suit you perfectly. Available in a range of finishes from pine, white painted pine and white polyurethane, YARD Direct has a wide variety of VELUX window's in stock for you to choose from.
Alternatively, we offer our own range YARDLITE; we offer similarly brilliant products that match any other available on the market, and we pride ourselves in making them slightly friendlier on the pocket than other industry leading brands (often, our range is 40% cheaper!). We use excellent materials so that we don't compromise on quality, and to top it off they all come with a 10-year guarantee! Oh, and PS.. we do next day delivery.
Most of our available window solutions can be built into either a pitched or a flat roof with ease and with great advice from a professional – regardless of roof material and pitch, our team can shed a little light on what will work best for your home, so feel free to give the team a call on 01786 357252, or try out our Window Butler and find your perfect windows for your home or project with only a few clicks!