Posted by Skye Tunks on 8th August 2018
We often get asked what the difference between a YARDLITEbrand Roof Window and a VELUX brand Roof Window is. YARDLITEis made by a sister company to VELUX called Altaterra and are a cheaper alternative to VELUX windows. While both windows are of a high quality and are sure to flood the light into your home, we have made an easy to follow table detailing the main differences between VELUX and RoofLITE.
To makes things even we compared the VELUX Centre-Pivot MK04 (78cm x 98cm) in white painted pine with standard double glazing and flashing, to the YARDLITE AAY M4A (78cm 98cm) also in white painted pine with standard double glazing and flashing.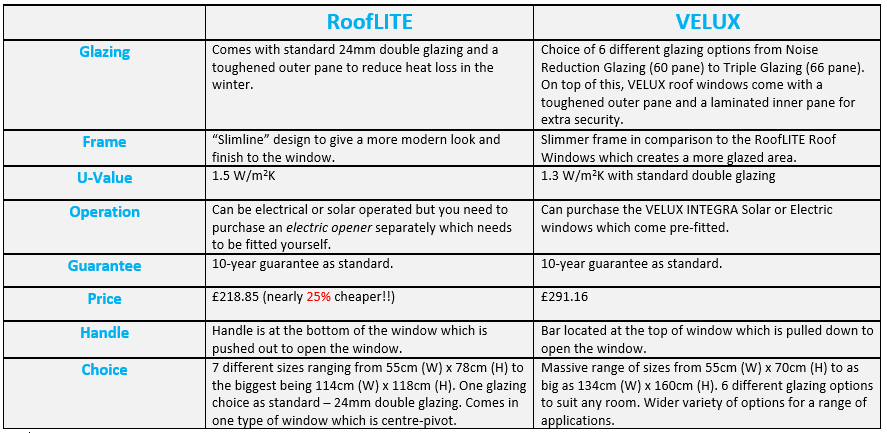 Although there are some differences between YARDLITE Windows and VELUX Windows, both make great additions to any home and are both high quality windows. With a massive range of choices between the two different windows, there is sure to be something to suit your needs.
VELUX roof windows have a huge range of blinds and accessories suited to your window for long term use. With blinds coming in electric or solar you can turn your VELUX into a statement piece within your home. Whereas, YARDLITE do not have as wide of a range of blinds and accessories. However, both have conversion kits to transform your manual window to an hassle free electric window.